"When you speak of diversity, you 'know' about diversity, of course", smiles Junko Tanaka, a Master student in Education and Globalisation at the University of Oulu, "but being thrown into a situation where people came from different time zones, lifestyles, study backgrounds, countries of residence and of origin, and different values, it just hit differently."
Only "One click away" –UNIC Creathon winner Junko Tanaka faced superdiversity, inclusion, and collaboration
Author: Vy Nguyen, University of Oulu


During A UNIC Creathon event, it suddenly became clear what diversity means for Tanaka's team of students from Bochum, Germany; Deusto, Spain; Cork, Ireland and Rotterdam, Netherlands. Tanaka also learned more about collaboration and empathy: "We need to be able to live and work with other people; collaboration skill is so important in this day and age".


Each member had his or her own expertise and talent. A member who was good in design would envision how the final product would look like, while another member, whose mother tongue was English, would proofread and edit the texts to give them a natural flow. Together, they did their best for the team.


Before the event, nobody in the team knew each other. It would have been easier, had the team members been at the same place and time to work. Instead, Creathon participants had to collaborate from a distance via their desktop screens. Even so, Tanaka's team members were empathetic throughout the Unic 24-hour Creathon competition.


Collaboration and empathy lead to fortified self-knowledge - and Unic Citylab Festival
Having to work with people different from her usual classmates at the University of Oulu really forced Tanaka out of her comfort zone. Looking back, she believes Creathon has brought out a new side of her and helped to learn more about herself. Meeting many different people and facing many different challenges helped fortifying one's identity.


Before Creathon, Tanaka had never been in any intensive 24-hour competition. She learned about Creathon from a classmate at the University of Oulu. Both became interested and registered for the event that took place in April 2021.


Now Tanaka is looking forward to the day she could join her teammates in person as their winning team has been invited to present its project UNIClick at the UNIC CityLab Festival in Liège in October 2021.


Sense of belonging and "UNIClick" - the Tinder of study interests
Tanaka recalls the warm and welcomed feeling. "If I am going to build my own community someday, I want to recreate this sense of belonging that I felt at the beginning of Creathon," she reminisced. The unforgettable feeling of inclusion has lingered in her heart to this day.


In the UNIC Creathon, student teams competed against each other to generate and propose creative ideas for educational challenges at UNIC partner universities.


Tanaka's team was interested in building a user-friendly app where connection and collaboration are made easy for students from international and multidisciplinary backgrounds. The idea is to make the app as easy as possible with gamification such as making avatars and matching students to connect.


Their project "UNIClick" is a "Tinder-like" app, but for university students. On UNIClick, students would create their own customized profiles by choosing different fields of interest: global challenges, climate change, racism, or unemployment. The platform would then automatically match students with similar interests using artificial intelligence. From UNIClick, students could also receive recommendations for UNIC courses, events and workshops. This way students would have the chance to connect, work on joint projects or even find solutions to global challenges. Their motto was "One click away from being part of UNIC".
The winning "UNICan" team members
Junko Tanaka, University of Oulu, Finland
Yazgi Yilmaz, Ruhr-University Bochum, Germany
Marina Rodríguez, University of Deusto, Spain
Gordon Rumley, University College Cork, Ireland
Ioana Luca, Erasmus University Rotterdam, Netherlands
Team Mentors Farshida Zafar, Erasmus University Rotterdam, and Henna Määttä, University of Oulu
The team's final project submission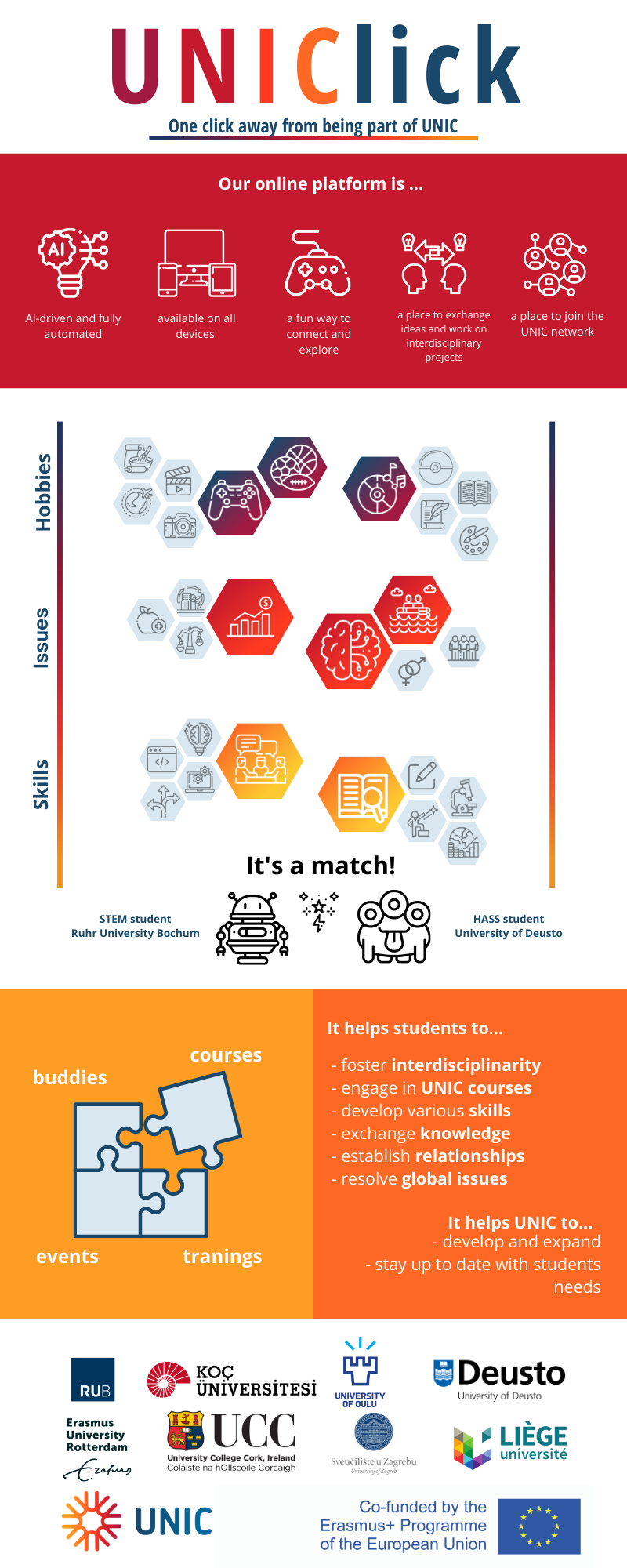 Junko Tanaka